What Is Blue Ocean Strategy?
In the vast business ocean, there are two types of waters: red and blue. While red oceans are bloody, representing industries already in existence with known market boundaries, blue oceans represent uncharted territories – untapped and uncontested market space.
Here, the competition is irrelevant because the rules of the game are yet to be set. Imagine sailing in a vast blue expanse with no competitors in sight. That's the Blue Ocean Strategy for you.
Why is the blue ocean strategy important?
Isn't it better to operate in a market space where you set the rules, rather than wrestle with competitors? Blue Ocean Strategy allows businesses to break out of the saturated market and create new spaces, or "Blue Oceans", ripe for innovation. It's about creating and capturing new demand, not fighting over it.
The benefits of using the Blue Ocean strategy
Increased profitability: Without competition, you dictate the price.
Faster growth: New markets mean more growth opportunities.
Higher market share: Being first often means a larger piece of the pie.
More loyal customers: Innovations lead to better solutions and happier customers.
A more sustainable business model: Less competition means fewer resources spent on fighting for market share.
Blue Ocean's strategy in marketing, advertising, and business
In the cut-throat world of marketing and advertising, standing out is paramount. And what better way to stand out than to be the only one in the arena? By employing the Blue Ocean Strategy, businesses can position themselves uniquely in the market, ensuring they're not just another fish in the sea but the only fish in their own blue ocean.
History of Blue Ocean
Blue Ocean Strategy, a concept coined by W. Chan Kim and Renée Mauborgne in their book published in 2004, entails the simultaneous pursuit of differentiation and low cost to carve out a new market space and foster new demand, rendering the competition irrelevant. This strategy pivots on the notion of 'value innovation,' which implies delivering superior value to consumers without compromising on cost-effectiveness. By identifying and re-evaluating consumer values, businesses can achieve differentiation and low cost concurrently​1​​2​​3​.
Specifically, Blue Ocean Strategy encourages companies to transition from existing markets saturated with competition (referred to as 'red oceans') to unchartered or untapped market territories with little or no competition (termed 'blue oceans'). In these blue oceans, organizations can benefit from a significant competitive edge alongside reduced price/cost pressure, thus unlocking novel demand and enjoying the freedom of setting the market terms​4​.​
---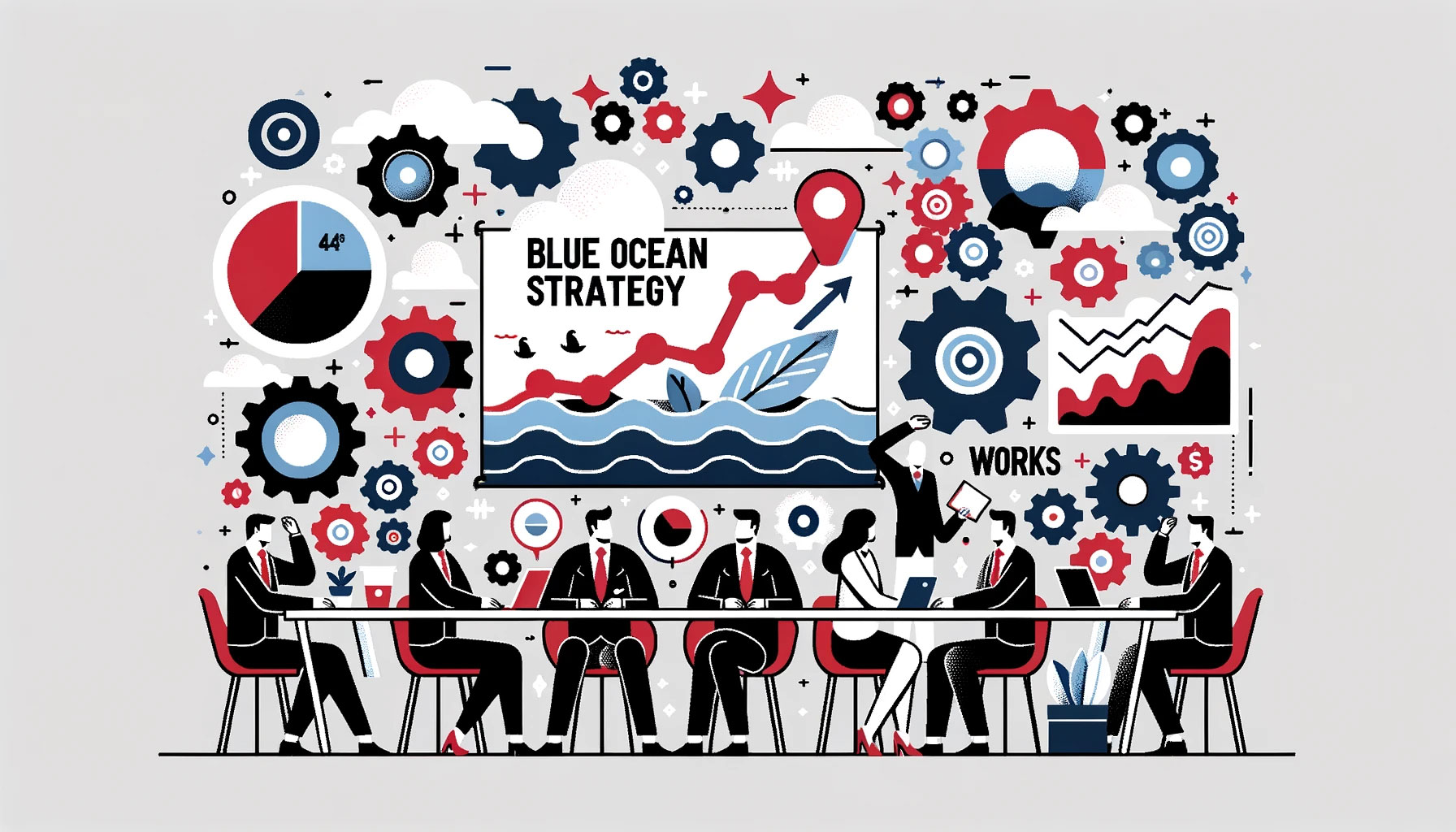 How Blue Ocean Strategy Works?
The key elements of Blue Ocean strategy
The Blue Ocean Strategy is not just a theory; it's a well-structured approach. Here are its cornerstone elements:
Reconstruct Market Boundaries: Break free from traditional industry classifications. Look for new market spaces across different industries.
Focus on the Big Picture: Instead of getting mired in numbers, focus on the bigger strategy canvas.
Go Beyond Demand: Don't just cater to existing customers; create new ones.
Get the Strategic Sequence Right: Ensure viability. It's not just about demand creation but also about creating a business model that can fulfill that demand profitably.
Overcome Key Organizational Hurdles: Tackle organizational resistance head-on and execute strategic shifts.
Build Execution into Strategy: From formulation to execution, ensure the strategy is actionable from the get-go.
How to identify and create blue oceans
Creating blue oceans isn't about taking wild risks but calculated moves in known territories. Here's how:
Look Across Alternative Industries: Don't just focus on your direct competitors. Look at alternatives to your product or service.
Look Across Strategic Groups: In every industry, there are tiers of products/services. By looking across them, you might identify a whole new market.
Redesign the Buyer Utility Map: Identify pain points in the buyer's experience and eliminate them.
Look Across Time: Innovate for the future. Anticipate industry trends.
The different types of blue oceans
Blue oceans aren't a one-size-fits-all. They vary based on:
New Market Spaces: Entirely new industries or niches.
Extended Market Spaces: Expanding existing industries into new, untapped areas.
Redefined Market Spaces: Altering the boundaries of an existing industry.
---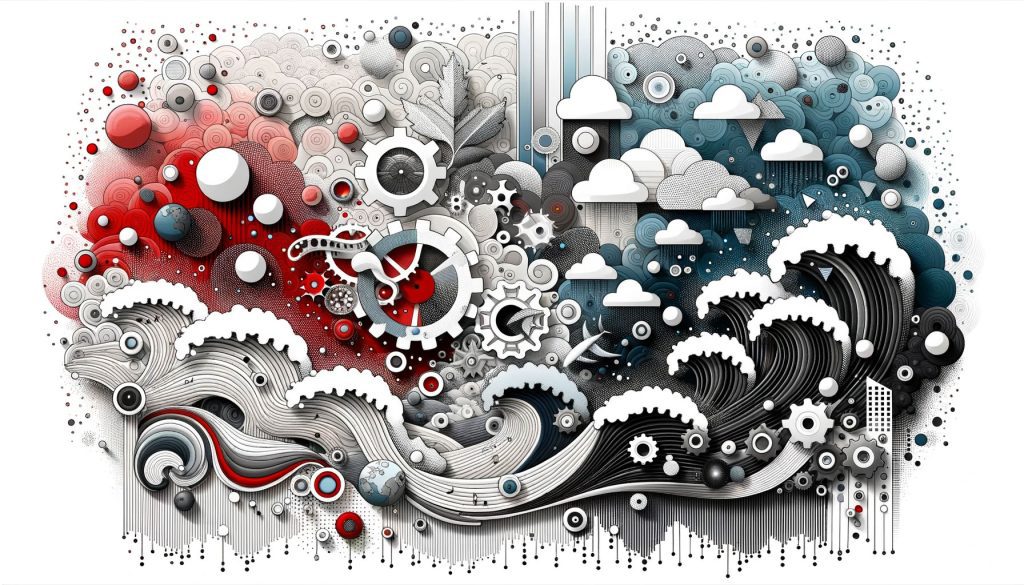 Benefits of Blue Ocean Strategy
We've touched upon this, but let's dive deeper. Why should a business consider this approach?
Increased Profitability: With little to no competition, you can set a price that reflects the true value of your innovation.
Faster Growth: Tapping into new markets propels growth at an unprecedented rate.
Higher Market Share: Dominating a new market space often leads to a significant market share.
More Loyal Customers: In Blue Oceans, customers aren't just looking for alternatives; they're looking for breakthroughs.
A More Sustainable Business Model: Innovators in blue oceans set the rules, making it harder for others to emulate or challenge them.
---
Blue Ocean Strategy in Marketing
How blue ocean strategy can be used to achieve different marketing goals
Marketing in blue oceans is not about fighting for a bigger share of the existing market but about creating a market:
Segmentation Innovation: Instead of traditional demographic-based segmentation, look at psychographics or need-based segments.
Value Innovation: Offer something drastically different. Not just a better product, but perhaps a better experience or after-sales service.
Engagement Innovation: Engage with customers in novel ways, perhaps through experiential marketing or unique digital experiences.
Examples of successful Blue Ocean marketing campaigns
A beverage company not just selling drinks, but promoting a lifestyle.
A tech company not just selling a gadget but a whole ecosystem around it.
---
Blue Ocean Strategy in Advertising
How blue ocean strategy can be used to create more effective and engaging ads?
Blue Ocean Strategy in advertising means:
Breaking Stereotypes: Don't just show what the audience expects to see. Surprise them.
Narrative Innovation: Tell a story that hasn't been told before.
Medium Innovation: Use a new platform, perhaps an emerging social media channel or a novel offline medium.
Examples of successful Blue Ocean advertising campaigns
An airline ad that doesn't talk about its planes or services but about the destinations.
A car ad that doesn't talk about the car's features but the adventures it can take you on.
---
Blue Ocean Strategy in Business
How blue ocean strategy can be used to develop new products and services
The application of the Blue Ocean Strategy in business is about innovation and risk management:
Needs-Based Analysis: Understand unmet needs in the market. Sometimes customers themselves aren't aware until they see a solution.
Prototype and Test: Before a full-scale launch, prototype your innovative idea and get feedback.
Iterate: Based on feedback, refine your offering. The first idea isn't always the best, but it's a starting point.
How blue ocean strategy can be used to improve the customer experience
Journey Mapping: Understand every touchpoint a customer interacts with and optimizes for delight, not just satisfaction.
Feedback Loops: Create mechanisms where customers can provide feedback regularly.
Continuous Improvement: Always be in the mindset of improving. Resting on laurels in a blue ocean can quickly turn the waters red.
Examples of successful blue ocean business applications
Streaming services shifted the entertainment industry from traditional TV.
Direct-to-consumer brands that bypassed retail chains to offer better prices to customers.
---
Case Studies
How businesses have used blue ocean strategy to achieve their marketing, advertising, and business goals
The Cirque du Soleil Revolution: By reinventing the circus experience, eliminating animal shows, and adding an artistic touch, Cirque du Soleil moved away from the red ocean of traditional circuses into a blue ocean of its own.
Warby Parker's Eyewear Innovation: Instead of competing with established eyewear brands in stores, they offered stylish glasses online with a home try-on option, carving a niche for themselves.
Tesla's Electric Dream: While major automakers focused on traditional cars, Tesla focused solely on electric, creating a blue ocean that others are now trying to navigate.
---
Related Terms
Marketing: The art and science of presenting your product to the world.
Advertising: Crafting compelling stories to sell your products.
Business: The structured efforts of selling products or services.
Target audience: The specific group of people you want to reach.
Customer journey: The path a customer takes from discovering your product to purchasing it.
Brand awareness: How well consumers recognize and remember your brand.
Consideration: The stage where potential customers are considering your product.
Purchase intent: The likelihood of a customer buying your product.
Personalization: Tailoring your marketing efforts to individual consumer needs.
Relevance: How pertinent your product is to a consumer.
Engagement: The interaction between consumers and your brand.
Data: Information collected to make informed business decisions.
Analytics: Interpreting data to understand business performance.
Value innovation: Creating new market space by innovating value.
Value creation: Offering solutions that customers deem valuable.
Value proposition: The unique value your product offers.
Cost structure: The monetary requirements to run a business.
Competitive advantage: Unique benefits that set a business apart.
Red ocean strategy: Competing in existing market space.
---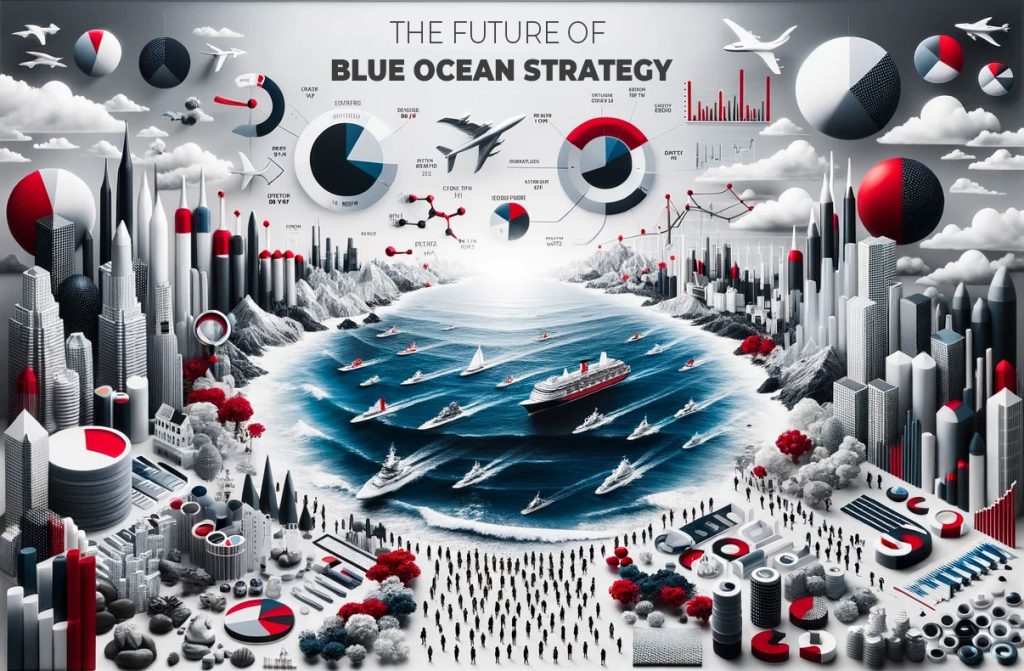 The Future of Blue Ocean Strategy
The rise of AI and machine learning in blue ocean strategy
With the advancement of technology, particularly AI and machine learning, predicting blue oceans has become more data-driven:
Predictive Analysis: Use data to predict where markets are moving.
Consumer Behavior Analysis: Understand not just what consumers are doing, but why.
Rapid Prototyping: Use AI to quickly mock up product or service ideas and test them in virtual environments.
The convergence of blue ocean strategy with other marketing, advertising, and business disciplines
As boundaries blur, the integration of different disciplines to create blue oceans will become common:
Integrated Campaigns: Marketing campaigns that are product launches in themselves.
Experiential Advertising: Ads that are also complete experiences for customers.
The ethical implications of using blue ocean strategy
While innovation is crucial, it's essential to ensure:
Sustainability: New markets shouldn't harm the environment.
Fair Practices: Innovations shouldn't exploit any group.
Transparency: Be open about intentions and practices.
---
Conclusion
The Blue Ocean Strategy is not just a business strategy; it's a mindset. In the ever-evolving business landscape, the rules of the game are continuously changing. To stay ahead, or better yet, to create the game, businesses need to adopt a blue ocean outlook. The vast blue expanse is full of possibilities, waiting for the next innovator. So, are you ready to set sail?
If you're looking to navigate these waters, remember, at HiT | High Tech Business Solutions, we offer full-service professional advertising, business, and marketing solutions to guide you through. Let's chart a course to your blue ocean together!
---
FAQs
What's the main difference between a red and blue ocean strategy?

A red ocean strategy involves competing in existing markets, while a blue ocean strategy focuses on creating new, uncontested markets.

Is the Blue Ocean Strategy suitable for small businesses?

Absolutely! It's about creating new market spaces, not the size of the business.

How does technology, especially AI, fit into the Blue Ocean Strategy?

AI can help predict potential blue oceans using data analysis and enhance the strategy's execution.

Are there any risks associated with the Blue Ocean Strategy?

Like all strategies, there are risks, especially in uncharted territories. But with risk comes reward.

How can HiT | High Tech Business Solutions help in implementing a Blue Ocean Strategy?

At HiT, we provide comprehensive solutions in advertising, business, and marketing to guide and execute your blue ocean endeavors.