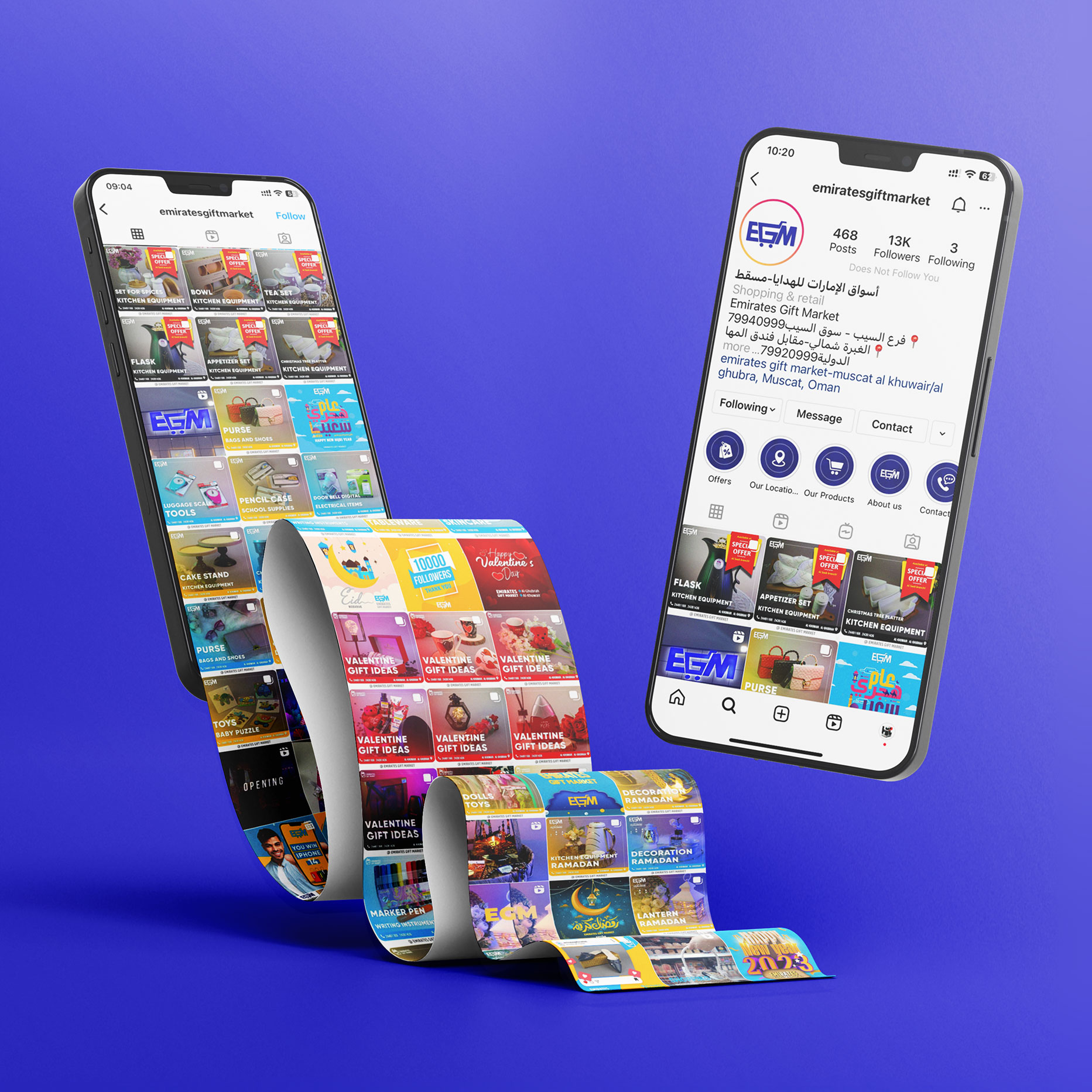 30

July
Instagram Content Marketing – @Emirates Gift Market
In today's digital age, establishing a commanding presence on platforms like Instagram is both an art and science. This is where "We Are HiT | High Tech Business Solutions" excels. Our collaboration with @Emirates Gift Market is a testament to our holistic approach to digital marketing. We amalgamated cutting-edge graphic design, motion graphics, targeted content marketing, photography, videography, and much more to create a comprehensive solution tailored to the brand.
Client: Emirates Gift Market
Our Role: Our mandate was not just to amplify Emirates Gift Market's online presence but to engrain it into the memories and conversations of its target audience. With a keen understanding of the brand's essence, our Digital Marketing and Media departments devised a bespoke strategy that made Emirates Gift Market a household name.
Services Provided:
Content Marketing: We curated and designed bespoke content that not only showcased the vast array of gifts available at Emirates Gift Market but also told a story; ensuring that every post was a blend of visual delight and engaging narratives.

Social Marketing: Beyond mere posts, we used data-driven techniques to ensure that the content reached its intended audience. From demographics to interests, our campaigns were optimized for maximum reach and engagement.

Content Creation & Design: Every post was meticulously crafted, from design to narrative, creating a cohesive visual and thematic story.

Photography: Our team of professional photographers captured the essence of Emirates Gift Market, making every product shot captivating and on-brand.

Videography: Through engaging video content, we showcased the brand's offerings in dynamic and immersive ways, elevating the user experience.

Instagram Post Design: Each post was uniquely tailored to resonate with the target audience, ensuring brand consistency and memorability.

Page Management: We took charge of the day-to-day running of the Instagram page, ensuring a steady flow of content, timely updates, and consistent engagement.

Engagement: Our team was always on its toes, promptly responding to comments, addressing queries, and engaging with direct messages, thus fostering a lively and responsive brand presence.

Support Page: Beyond the usual, we established a dedicated support page, ensuring that user concerns and feedback were addressed in real-time, strengthening brand loyalty.
Solution for Instagram: Our approach was comprehensive. The use of vivid motion graphics and video content brought the Emirates Gift Market experience closer to its audience. Our consistent and tailored post designs ensured the brand was always top-of-mind. Combined with our proactive page management and real-time engagement strategies, we transformed Emirates Gift Market's Instagram presence from just another e-commerce platform to a community-centric gift solution hub.